What Vanhe modular house can bring you?
Views: 25 Author: Site Editor Publish Time: 2018-09-18 Origin: Site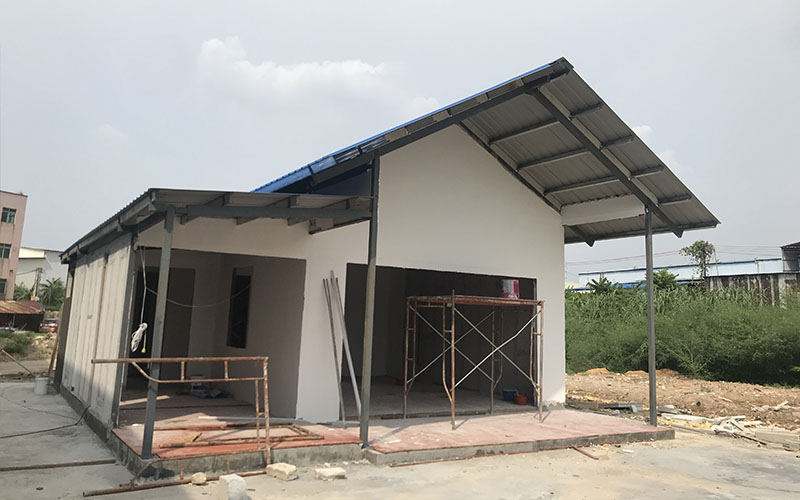 In mid September this year, 14 typhoon mangosteen attacked the entire Southeast Asian region. In Dongguan, after a week of construction, the Vanhe EPS cement sandwich panel house is just close to completion.
After the typhoon, the streets, houses, factories and other facilities in Dongguan City have been damaged to varying degrees. But the Vanhe cement sandwich panel house still stands like a mountain on the site, without any damage, even a piece of roof tiles have not been blown away. Thanks to the professional wind-resistant structure design, the excellent performance of the wallboard enables it to survive the typhoon without being hurt.
Wind resistant,anti-seismic,environmentally friendly,fire prevention,waterproof,healthy and comfortable......The Vanhe cement sandwich panel house,which combines these advantages, will provide you with the most suitable house for you. Our main products will vary according to the location of the different anti-seismic wind level, and the lowest anti-seismic strength is 8 degrees, the lowest wind strength is 13 degrees.
Environmentally friendly is embodied in the materials used in house.The main materials of Vanhe cement sandwich panel house are non-combustible materials, fire-proof and earthquake-resistant, safe and reliable, long service life, corrosion-resistant. The EPS cement board has the advantages of high strength, light weight and good performance. Integration of housing, from the use of environmentally friendly materials to the site dry construction process of low-carbon energy-saving, can reduce 90% wood consumption, reduce 90% construction waste, save 90% construction water, save 35% construction electricity. Similarly, the ultra-low energy consumption of integrated housing can be reduced through the superior thermal insulation performance of the structural system itself; in addition, the integrated housing has good thermal insulation performance, warm in winter and cool in summer. This is the standard of healthy and comfortable housing.
The galvanized steel is used as the basic structural material and the EPS cement sandwich panel as the inner and outer wall panels. Various specifications of wall panels are produced by industrialized production in factories to form standardized building components, which are assembled rapidly on site. Realized the factory manufacture and assembly production of the building.